The Cars
Edsel History
For Sale
Support
<!- a href= http www.edsel.com/pages/contacts.htm --> <!- img src= barconta.gif width= 150 height= 30 border= 0 alt= Edsel Contacts /a br --> <!- a href= http www.edsel.com/pages/events.htm --> <!- img src= barevent.gif width= 150 height= 30 border= 0 alt= Edsel Events /a br -->


Edsel Extras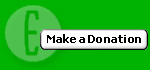 Number of documented cases of Edsels being saved by The Edsel Pages to date:



<!- B FONT COLOR="#FFFFFF" SIZE="+1" Affiliate Sites /FONT /B --> <!- a href="http://www.qksrv.net/click-748181-1925269" target="_top" onmouseover="window.status='http://www.ebay.com';return true;" onmouseout="window.status=' ';return true;" --> <!- img src="http://www.qksrv.net/image-748181-1925269" width="125" height="125" --> <!- alt="Click here for your favorite eBay items!" border="0" /a --> <!- BR FONT SIZE="-1" Click to visit /FONT BR CENTER B eBay /B Auctions /CENTER -->


Java scripts and
other programming
provided by

Privacy Statement


<!- To be replaced each September 11th with: --> <!- edselcom.gif 440 171 IMG SRC="uspride.gif" WIDTH="477" HEIGHT="184" ALT="Welcome to Edsel.com" -->
It's all about the car. <!- /FONT FONT SIZE="-3" COLOR="008800" SUP TM /SUP -->
---
Edsel.com and The Edsel Pages are designed to help new Edsel owners find parts and advice, current Edsel owners to show their cars, and future Edsel owners to find out just what they're getting into. It's all about keeping as many Edsel automobiles on the road as possible. No other agenda, no politics.
It's all about the car. <!- /FONT FONT SIZE="-3" SUP TM /SUP -->

---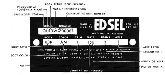 The Edsel Registry


The on-line Edsel Registry gives you a spot on the web where you can tell the world about your car, ranging from how many awards that it's won to how much the salvage yard gave you for it. Any Edsel in any condition - if it's got an Edsel patent plate, people want to know about it.
View the On-line Edsel Registry
Add your Edsel's information
---
Edsel Club Home Pages
---
Regional On-Line Edsel Clubs
Edsel Owners U.K., IEC
EOC Sweden

New England Edsel Owners Club (Northeastern US)
Southlanders Edsel Owners Club (Southern California)
Southeastern Chapter, IEC (Southeastern US)

---
---
Latest Edsel News and Edsel Page Updates
Spring 2021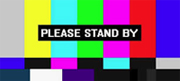 Yes, I broke the navigation bar at the top of every Edsel.com page while trying to make the site more secure.
Working on it. And the online Edsel Registry form delivery is equally broken, although that one wasn't me.
I am not liking the 2020's at all so far. Please stand by.



Sometime Later in 2020..
Edsel season didn't get far this year. 2021.. The pressure's on you to get this Biff Tannen time line back to reality.
Meanwhile, new Edsel reproduction pieces continue to emerge from Henry Klinger Edsel Products. The latest is a
set of 1959 2-door upholstery panels that people have asked for after the 4-door version hit the market. Check out the
Edsel Suppliers page for details.


Spring 2020
Everything's starting out in slow motion this year, especially the Edsel car show season. On the bright side, home is where the
online car parts are. Why not check out the latest updates from Henry Klinger Edsel Products, listed on the Edsel Suppliers page.
A set of Edsel rims is up for grabs along with the large selection of reproduction parts. Anyone wanting more information can contact
Henry at: hedsel44@frontiernet.net, or phone 717-453-7244.
And if you've got Edsel news to share, drop me a line at admin@edsel.com.
I'll be at home.


Summer 2019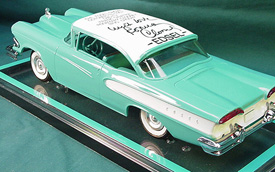 Bruce Roberts' Edsel Promo Time pages have had their first major update since 2016.
Check out the newly discovered dashboard color variations and unique pieces like the Rosemary Clooney signed promo.

Fall 2018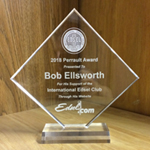 Edsel.com is back online after a lengthy and unexpectedly troublesome hardware upgrade.
Thanks for your patience with what's become a HUGE backlog of updates to be posted!

Most appreciated is the recognition by the International Edsel Club, though the presentation of the
2018 Perrault Award for support of the Edsel community.
It served to re-energize Edsel.com's recovery, and upgrades to the screens and graphics are now in the works.

Winter 2017
Just in time to help you find a gift for the Edsel fan in your life, Fat Cats Design has all of your Edsel T-shirt needs covered with rhinestone, vinyl and custom Edsel designs.



They can also create a custom Edsel shirt for you, your club or a special event.
Larger images and links are posted on the Edsel-Related Items For Sale page.

<!- June 2006 --> <!- www.edsel.com/spawmax.jpg height="160" width="275" align="RIGHT" --> <!- Texas-based contracting firm http://www.spawmax.com Spaw Maxwell saved a 1958 --> <!- Edsel Pacer 4-door hardtop from the crusher, and with it created their award-winning --> <!- entry for the 2006 Houston Art Car Parade. Patrick Stanley reports, "We won first --> <!- place in the performance division and 3rd place overall. Even though some purists --> <!- might not like what we have done with the car, it is by far a better fate than the --> <!- junkyard would have been. The car is available for personal appearances and shows, --> <!- but the schedule is filling fast. For more photos, visit the spawmaxwell.smugmug.com --> <!- Art Car link, and for more info (or have an event in the Houston/Dallas/Austin/San --> <!- Antonio areas that you would like the car to attend), then please e-mail Patrick at --> <!- A HREF= mailto:pstanley@spawmax.com pstanley.spawmax.com --> <!- April/May 2006 --> <!- Recent additions to the Edsel Gallery include --> <!- the custom small-scale creations of Graeme Ogg, displayed on the Edsel Models page. --> <!- These and others will soon be featured in the British magazine, Model Auto Review --> <!- Apologies for the backlog of online Edsel Registry entries - there's a few dozen still --> <!- in queue. But the real Edsel needed a little coaxing to wake up from winter, so the --> <!- cyber-Edsels took a back seat. Coming soon: Countdown to E-Day50!! --> <!- December 2004 -->
---
HELP WANTED!
Most of the Edsel pictures on the 1958-1959-1960 pages are from when the site was launched in 1997. It's time they were refreshed. If you'd like your car to be the featured "model" car, please email a picture with your name and the car's location.

Also, if you have information on:
Edsel Youngstar 1/4-Scale Electric Cars
Origins of these Edsel Advertisements
Photos of your Edsel Vanity Plate
then your help is needed. Please send along any info or photos to admin@edsel.com, and as always, you'll be included in the page credits if so desired.
Thanks!!
---
SCAM ALERT
Attention Edsel Sellers: Please be aware of a known check cashing scam that is frequently perpetrated on classic car sales! Visit the Scam Alert Page for details.

For a list of commonly used phrases that may help identify Scam Email, click here.
---
Special Thanks: Phil Skinner for Edsel research, facts and statistics, Magne Teigen for tons of specifications and rare Edsel material from around the world, Ron Osborn for the Ford research, Jim Popp for many of the Edsel part resources, Alison Organ for lots of the Edsels in Film references, and to Bud Goodwin, Gary Brunsch, Mark Bohenek, Jim Turner, Carl Erdman, Larry Blodget, Doug Harley, Matt McLaughlin, Mike Hinsch, R. Meek and Fred Schell for their dedication in recording so many Edsel VINs that now appear in the on-line Registry.
---
Achievements:

---
<!- IMG SRC="http://www.edsel.com/cgi-bin/counter.pl" ALT="Hits" --> Visitors since February 5, 2011

---